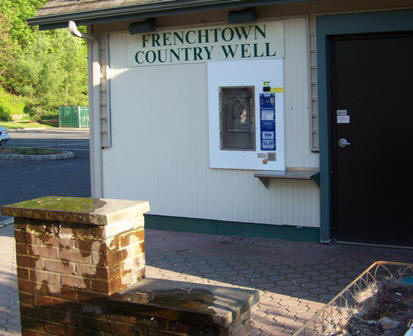 Artesian Spring Water Refill Station
Located in Frenchtown, NJ.  Hunterdon County.  Our customers come from many local communities such as Flemington, Clinton, Lambertville as well as towns in Mercer County, such as our State Capital Trenton.  It is also very convenient to communities in Somerset County such as Somerville, Raritan, Bridgewater, and Hillsborough.  We have many customers also from Warren County residing in Phillipsburg, Washington and Alpha who find The Frenchtown Country Well is a convenient reliable source of drinking water.   The Frenchtown Country Well is a convenient 30- 60 minute ride from most central jersey communities.  We even have customers who live as far as New York who pick up water on their weekend excursions to Frenchtown and other river towns in the area.  
Water is a very important part of our life.  But how much water should we consume every day?  Just remember the 8×8 rule.  Drink eight , 8oz  glasses each day.  For more information on how much water we should consume see this very interesting from the MAYO CLINIC   and Shape Magizine.   But the other important part is to drink clean fresh water. The artesian spring water from the Frenchtown Country Well is tested regularly to insure its purity.   The test reports are posted on site along with being submitted to the county and state agencies.
Why should you purchase our water from the Frenchtown Country Well?
For starters the cost.  Using the 8×8 Rule on a family of four.  That would be about 2 gallons a day not including water for cooking.  Natural Spring water from stores cost about $1.00/ Gallon on average.  The Artesian Spring water from the Frenchtown Country Well is $.50/ gallon. HALF THE COST!!!!!  using on the average  2 gallons / day that's $1.00/day or $365/year for a family of four.  That's if you only drink it.

If your tap water taste is poor it affects the way your food tastes.  Think about how many things are cooked with water.  Pasta and Vegetables just for starters.  Think of how much better your food will taste when you cook with clean spring water.

Frenchtown Country Well is convenient.  Open 24/7/365  No matter your work schedule you will always be able to fill up your containers.

You always know the age of the water in your water container when you fill it at the Frenchtown Country Well.  The water is continually flowing from the ground so when you fill up, the water came fresh from nature only moments before.    When you purchase the water from a store do you know the following — Where was the spring that spring water came from?  Do you know how long ago the container in the store was actually filled?   How long was it sitting on a pallet in a warehouse before it was delivered to the store?  How long before it was stocked on the shelves at the market?  How many days did it sit on the shelf?

According to geology.com Americans consumed 9.67 billion gallons of water in 2012 and are expected to surpass 10 billion gallons in 2013.  By recycling your existing water containers by refilling them at the Frenchtown Country Well you are reducing the amount of waste that is being sent to land fills.
The Frenchtown Country Well is located in Frenchtown, New Jersey and is a constant pure source of artesian spring water. Bring your empty drinking water containers to the Frenchtown Country Well , Artesian Spring Water Refill Station, and refill them at less than half the cost of bottled water from the supermarket or big box stores. Our water comes from an artisan well in Frenchtown, NJ; cold and pure from the earth. The well has been flowing steadily since 1939 and supplying clean, fresh water to Hunterdon County and surrounding areas. Some of our customers come from as far as 50 miles away! Our machine accepts 1 gallon, 2-1/2 gallon, 5 gallon containers as well as most insulated water coolers.
The water from the well is also used to heat and cool the Olde Theater Center without the use of any fossil fuels.  Click here to see the Hunterdon County Democrat News , July 11, 2011 
Also see us at findaspring.com
Still not sure what  Artesian Well Water is click here!
1 GALLON – $0.50
5 GALLON – $2.00
Available 24/ 7/ 365
Located at:
The Olde Theatre Center
1110 Harrison Street
Frenchtown, NJ 08825